Presenting the Transcription Feature
. We start off with a fictional one, the lovable Parky of
Meet Me at Parky's
. A famous food critic is coming to his restaurant, and Parky is desperate for a good write-up. So desperate that he looks for help from con-man Orville Sharpe, the only person of Parky's acquaintance with more of a talent for malapropisms than he. Then, on
You Bet Your Life
, Groucho Marx welcomes an actual Greek restaurateur. Other contestants include a Las Vegas masseur and a real-life "Rosie the Riveter." Check it out
here
.
Greek restaurateurs have their say on this episode of
The Great Gildersleeve
. He's only an uncle, but he's been like a father to his niece and nephew, so they decide to get him a great, big, stuffed club chair. They aren't the only ones. This episode is a classically-structured farce with people and chairs coming and going to beat the band. Then on the science fiction anthology program
X Minus One
, a couple of lab rats find themselves caught up in government bureaucracy. Check it out
here
.
For Father's Day, we start off with
Information Please
, the guest is General Hugh Johnson, head of President Roosevelt's National Recovery Administration, who also worked hard to raise money to fight polio. Then, on
The Danny Kaye Show
, the versatile comedian / actor / singer plays an exaggerated version of himself. As he tries to get to Washington for a March of Dimes fund-raiser, he finds plenty of opportunities to use his patented fake-foreign accents and scat-patter as well as sing a sweet song or two. If you would like to make a donation to the March of Dimes, simply
click here
. For the podcast,
listen here
.
The March of Dimes gets mentioned on both our quiz show and our comedy in this installment. On
Star Trek
's "The City on the Edge of Forever." I've watched, read, and listened to this story nearly all my life. Now I talk about its complex and, some say, controversial history on the great podcast "Enterprising Individuals." Listen
here.
I take on the Big Kahuna:
he Jack Benny Show
. On this episode, the gang is flying back to Los Angeles from New York. At the time such a voyage was a rare treat. It took a mere 18 hours; about half as long as a similar trip by train. Then on
Have Gun Will Travel
, Paladin thinks he's doing his Chinese friends a favor by exposing a con game as old as the hills. But there's a lot more to it than meets the eye of even the sharpest mind in the Old West.
Listen here
.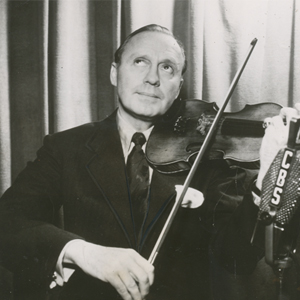 For Mother's Day, Dennis Day sings the ballad "Little Mother of Mine" on T
Lux Radio Theater
usually adapted films, but this adaptation of
Lost Horizon
is based on the 1933 novel by James Hilton, not the 1937 film starring Ronald Colman and directed by Frank Capra. And yet, this radio version also stars Ronald Colman. He had become so identified with the film's hero, Conway, that it was unthinkable to do a version without him. If you've only seen the film, you'll be surprised to find that the story is the same but many of the characters are different and / or missing. Give a listen
here
.
The
Film and Water Podcast
to talk about the 1937 classic film
Lost Horizon
. Starring Ronald Colman and directed by Frank Capra, this tells the tale of a small band of people who arrive unexpectedly at Shangri-La, a hidden valley of peace and calm in the middle of a chaotic world. Based on the novel by James Hilton,
Lost Horizon
was nominated for seven Academy Awards and won two.
I return to Rob Kelly's
The Casebook of Gregory Hood
, a summer replacement series that became a hit in its own right. Written by science fiction and mystery writer Anthony Boucher and writer Denis Green, it takes full advantage of its post-war San Francisco setting. Then on The Jack Benny Program, Jack has to sneak around in order to avoid being seen by actor Ronald Colman. Luckily, he has his old-lady costume from a production of
Charley's Aunt
. So on go the bonnet and high heels . . .
Check it out here.
As promised last time, I'm giving you the first episode of the amateur detective drama
The New Adventures of Sherlock Holmes
set on the Emerald Island. Today, kissing the Blarney Stone is must-do for tourists. Back in Queen Victoria's time, the tradition was less-known and a lot more dangerous - as the Great Detective and the Good Doctor are about to learn. Then we double-dip into classic Americana with two episodes of
Vic and Sade
. First Vic is requested to tackle some ballistic golf clubs, and then he receives a top honor in the world of kitchenware. Check it out
here
.
To celebrate St. Patrick's Day, we present an episode of
Tales from the Canyons of the Damned
is out. This is the all love stories issue. Well, weird love stories. My contribution is a reprint of my second humorous tale of Reggie Brubaker and his faithful valet, James. In "James and the Gentry," Reggie has accidentally become engaged to Galia, First Princess of the Lande of Faerie. It's up to the world's greatest gentlemen's gentleman to get him out of it.
Available on Amazon
in eBook and paper format. Various eBook back issues of
Canyons
are available on Amazon as well as
Kobo
and
Barnes and Noble
.
The Valentine's Day issue of