The Thin Man
, appeared on film, television, and, of course, radio.
The New Adventures of The Thin Man
was a radio incarnation that emphasized the duo's trademark witty repartee and underplayed the criminal violence. This episode is about a missing dog, but still manages to work in boxing and gambling. Then Old Time Radio's premier science fiction anthology series,
X Minus One
, adapts a classic tale by Robert Heinlein, "The Roads Must Roll." In a future where the highways became so crowded that we gave up cars in exchange for high-speed conveyor belt roads as our preferred mode of transport, one man stands alone against radicals seeking to take down the system. Check
it out here
.
Dashiell Hammett's Nick and Nora Charles, the supposedly-retired PI and his socialite wife, heroes of his mystery novel
The Fourth Lion
, the YA thriller written by Jeff Ayers and myself. You can check
it out here
. The money quote:

"This story is a great mystery, and it's especially memorable because these kids are really SMART. We see them use their brains to think their way around and through obstacles again and again, in both hi-tech and low-tech ways."

Available in paper and Kindle editions on Amazon and Barnes and Noble.
The New York Public Library Tumblr has a Reluctant Reader section. This week they recommend
Presenting the Transcription Feature
. First, history comes alive in an episode of
CBS Is There
(later known as
You Are There
). This June marks the 800th anniversary of the Magna Carta, one of founding documents of the rule of law. CBS' newsmen and sound effects crews work overtime to show us what it would have been like had they (and we listeners) been there for a news broadcast from the fields of Runnymede as King John faced off with 25 of his barons in their effort to limit his powers. Then it's time to meet the lazy civil servants who make up
The Men From the Ministry
. This 1960s BBC comedy pokes fun at bureaucracy, office politics, and avoiding work. Click
here to listen
.
We take two trips to England for this installment of
The Bob Hope Show
(for Pepsodent) we get a visit from baseball great Dizzy Dean and a performance of the kooky novelty tune "Alexander is a Swoose." Then the Screen Guild Theater presents an adaptation of
Ramona
– the 1936 film, which was based on the famed pageant, which is, in turn, based on the 1884 novel by Helen Hunt Jackson. One of the founding myths of Old California, it tells the romantic but ultimately tragic tale of a half-Native American girl who gives up life on the rancho to marry a fellow Indian. Click
here to listen
.
Bob Hope starred in every form of Twentieth Century entertainment – from vaudeville to radio to movies to television. In this episode of
The Invasion of the Star Creatures
-- or, as I like to call it,
The Bowery Boys Meet the Space Vixens
. Two hapless U.S. Army dog-faces stumble up on an alien invasion advance force in the form of bikini-clad ladies. There's some tiki/tree-looking monsters and lots of running around in caves. Cue "Yakety Sax." Check
it out here
.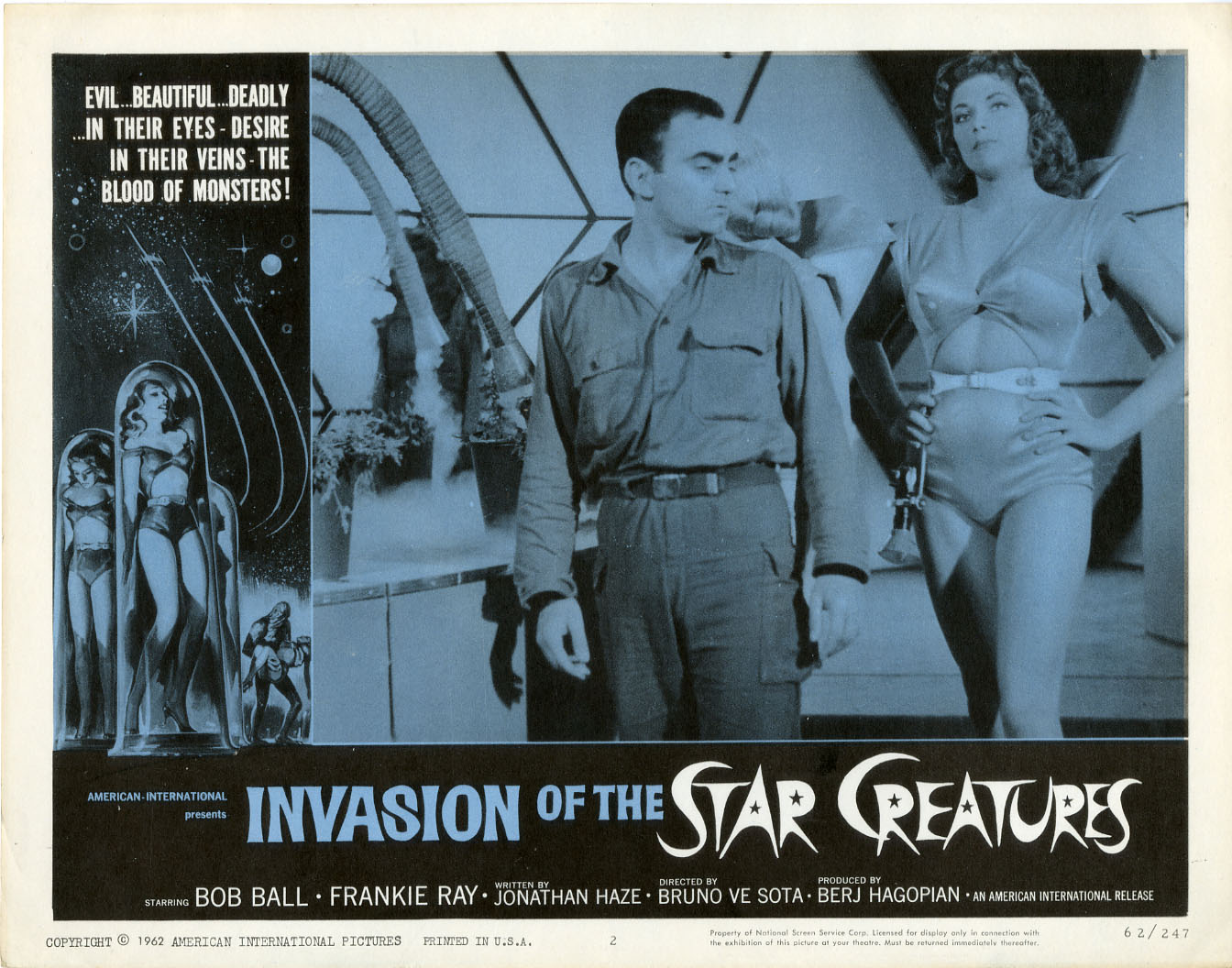 After a long hiatus, the Temple of Bad gang is back. This time we review 1962's
The Phil Harris-Alice Faye Show
. Phil began his radio career as the bandleader on
The Jack Benny Show
, but his personality could not be contained. His show with his wife, actress Alice Faye, was just as big a hit. In this episode, Phil goes searching for a Mother's Day gift for Alice. His quest to do this on the cheap lands him and his pal Frankie Remley in the usual pots of hot water. Then Dr. Watson returns to fill us in on
The New Adventures of Sherlock Holmes
. Starring Nigel Bruce and Basil Rathbone, this adventure involves Boer War spies and carrier pigeons. Click
here to listen
.
In honor of May and Mother's Day, we start off with an episode of
The Abbot and Costello Show
and their classic "Who's On First." This episode is much more than just that classic routine. There's jokes about contemporary baseball players Bob Feller and Enos Slaughter, and singer Marilyn Maxwell introduces the hit song "Do You Know What It Means to Miss New Orleans." Then we visit the 1870s Old West of Dodge City, Kansas for an episode of
Gunsmoke
. A visiting baseball team is in town and that means gambling. Can William Conrad as Marshall Matt Dillon root out the bad guys. More importantly, which set of the not-yet-codified rules of the game will the teams use: the one that lets you walk on eight balls or nine? Click
here to listen
.
It's April, and that's the start of the baseball season, so here's two baseball episodes. We're starting off with
Mercury Theater on the Air
adaptations. Alexandre Dumas'
The Count of Monte Cristo
first appeared in 1844 and was an immediate success. Welles portrays Edmond Dantès, a young man unjustly imprisoned for many years who uses an immense fortune to wreck revenge against his enemies. This broadcast begins with a news bulletin about the Czechoslovakian Crisis of 1938, which ultimately drew England into World War II. Listen
here
.
We present a classic one-hour radio drama this time - one of Orson Welles'
The Burns and Allen Show
, George Burns experiences more than the usual amount of befuddlement when wife Gracie Allen signs up to be a Girl Scout troop leader. This March marks the 103rd anniversary of the founding of the Girl Scouts by Juliette Gordon Lowe. Then on
Quiz Kids
, there's a lot of blarney thrown around in preparation of St. Patrick's Day as the young prodigies field questions about Irish history and other famous guys named Patrick. Click
here to listen
.
We celebrate March by honoring the Girl Scouts and the Irish. First up on
And All Our Yesterdays
- Stories of Mystery and Crime Through the Ages. From the perils of the Mississippi River in the 1800s to post-war Vienna. From Medieval Europe to rum-running gangsters. Featuring a reprint of my Abraham Lincoln as action hero story, "The Flatboat." Edited by Andrew MacRae, from Darkhouse Books.
Available in
paper or ebook format
.
Just published: