Bobby Benson and the B-Bar-B Riders
was a kid's radio show set in "the modern West." Bobby was a 12-year-old who had inherited a Texas cattle ranch, the B-Bar-B. He and his ranch hands struggled against rustlers and other sorts of appropriately western, but mid-20th-Century, hazards. This episode prominently features a young Don Knotts playing crusty old-timer Windy Wales. In Windy, you'll hear the roots of Knotts' Nervous Man character, who eventually morphed in Deputy Barney Fife on
The Andy Griffith Show
. Then Bing Crosby hosts the
The Kraft Music Hall
, the radio program that solidified his place in radio history. Crosby hosted the variety show for a decade, singing standards and popular tunes of the day as well as cracking wise with plenty of guest stars. This time, he hosts young Donald O'Connor, who's about to go into the Army. Bing open with the post-war classic "San Fernando Valley," then he and O'Connor mix it up with "Small Fry."
Check it out here.



>
The Jack Benny Show
. Jack, Mary, and the gang are celebrating the change-over from 1938 to 1939. They survey the previous year, which included Howard Hughes flying around the world and "Wrong Way" Corrigan, who left New York for California, but ended up flying to Ireland. Then before Jack Webb was Sergeant Joe Friday on
Dragnet
, he was the titular hero of
Pat Novak, For Hire
. Pat was a sort of un-detective. He ran a boat rental place on the San Francisco Bay, but solved crimes and problems to raise extra cash. Pat's tough guy, hard-boiled lingo is a far cry from Friday's "Just the Facts" persona. Check
it out here
.
We start off the new year with
It costs $584 million to buy every possible ‪Powerball‬ lottery combination. At $1.3 billion minus the taxes, you'd have $650,000,000, or a profit of $66 million. If you have $584 million: a) $66 million is chump change to you and b) almost anything you do with that $584 million will turn you a much greater profit.
King Kong
! What could possibly go wrong? Check out our review on the
Temple of Bad
.
Made by a a bunch of Academy-Award winners and nominees, including Jessica Lange, Jeff Bridges and Dino De Laurentiis, it's the 1976 remake of
Our Miss Brooks
. During Christmas vacation the sardonic English teacher has plans to exchange the dreadful presents she received for something a little more useful. And so does everyone else. Then on
Dragnet
we feature the adventure of a con racket that starts in the middle of December and goes all the way through to a New Year's Eve party. You're a detective sergeant. You take a cup o'kindness yet for auld lang syne. Check
it out here
.
Christmas is over. It's time for some Old Time Radio post-Christmas reflections and preparation for New Year's. We start with Eve Arden starring in
The Great Gildersleeve
, but left due to a contract dispute. This eponymous series was an obvious attempt to copy Gildersleeve. The show only lasted one season but did result in a couple of great episodes including this Christmas one which features Harold and reformed thief. Then "The Robin Hood of Modern Crime," Simon Templar, in the form (well, voice) of Vincent Price returns in another action-packed episode of
The Saint
. It's Christmas Eve and Simon has an appointment to play Santa for a bunch of under-privileged tiny tots. Nothing could possibly go wrong. Check
it out here
.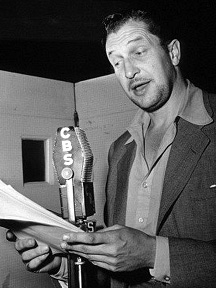 It's December, so it's time for some Christmas-themed episodes. We start off with The Harold Peary Show. Peary had been a huge success starring in
Young Adventurers
, the genre anthology featuring young people saving the day in the past, present, and future, is now available
in paperback and ebook formats
from Amazon. Edited by Austin Camacho, the collection features 17 new tales, including a story by me and Jeff Ayers set in Washington D.C.'s Museum of Air and Space. Plus a new young Repairman Jack story by F. Paul Wilson.
Miracle on 34th Street
, featuring the movie's original stars: Maureen O'Hara, John Payne, and Edmund Gwenn. Remember that the show's inciting incident is the Macy's Thanksgiving Day Parade, and the rest of the story plays out over the month of December. So, as you prepare that turkey and those yams, tune in to some classic old time radio.

Check it out here.




It's the beginning of the holiday season on "Presenting the Transcription Feature." Thanksgiving is not too early for the Lux Radio Theater adaptation of
The Quiz Kids
. First up on
The Jack Benny Program
, Jack's cast matches wits with the visiting Quiz Kids with the usual zany results. Then, just a week and a half later, Jack makes a guest appearance on
The Quiz Kids
. Is he smarter than a 9th grader?
Check it
out here.
This time on Presenting the Transcription Feature, here's a double dose of Jack Benny and the young geniuses of
The Aldrich Family
. Who's letting the air of car tires? Who's ringing doorbells and running? Could it be that scamp Henry Aldrich? Before Halloween was all about candy, it was all about tricks. Then Eve Arden stars as
Our Miss Brooks
, the comedic and sardonic, but beloved, English teacher making her way in yet another small town. Nothing seems to go right for her, her students, or her principal, as they plan a Halloween party. Check
it out here
.
There's two Halloween episodes for your enjoyment on this installment of "Presenting the Transcription Feature." First, the wholesome world of small-town America is shaken by a string of Halloween tricks on