Miracle on 34th Street
, featuring the movie's original stars: Maureen O'Hara, John Payne, and Edmund Gwenn. Remember that the show's inciting incident is the Macy's Thanksgiving Day Parade, and the rest of the story plays out over the month of December. So, as you prepare that turkey and those yams, tune in to some classic old time radio.

Check it out here.




It's the beginning of the holiday season on "Presenting the Transcription Feature." Thanksgiving is not too early for the Lux Radio Theater adaptation of
The Quiz Kids
. First up on
The Jack Benny Program
, Jack's cast matches wits with the visiting Quiz Kids with the usual zany results. Then, just a week and a half later, Jack makes a guest appearance on
The Quiz Kids
. Is he smarter than a 9th grader?
Check it
out here.
This time on Presenting the Transcription Feature, here's a double dose of Jack Benny and the young geniuses of
The Aldrich Family
. Who's letting the air of car tires? Who's ringing doorbells and running? Could it be that scamp Henry Aldrich? Before Halloween was all about candy, it was all about tricks. Then Eve Arden stars as
Our Miss Brooks
, the comedic and sardonic, but beloved, English teacher making her way in yet another small town. Nothing seems to go right for her, her students, or her principal, as they plan a Halloween party. Check
it out here
.
There's two Halloween episodes for your enjoyment on this installment of "Presenting the Transcription Feature." First, the wholesome world of small-town America is shaken by a string of Halloween tricks on
A Quiet Shelter There
, edited by Gerri Leen. It's a genre-related anthology of stories and poems about people and their companion animals ("pets" if you life, but that's not always the case in this collection). And it's for charity! And
Publishers Weekly liked it
, giving my story a shout-out. FYI "Olaf and Lars" is the polar bear story that's also a Christmas adventure.
Here's the back text:
Come to Istanbul, where determined cats find an unlikely ally to rally the neighborhood before the next earthquake. Spend a day with the first dog. Travel with a man and a polar bear as they outsmart trolls who have overstayed their welcome. Walk with a blind hacker and his seeing-eye miniature horse as they take on a job that may be more than what it seems. Marvel at the price paid to make a mute dragon speak. Visit a nursing care facility, where the resident cat does far more than just lounge in the sunshine. The stories and poems in this book were written by authors and poets dedicated to the cause of homeless animals. A large percentage of the profits will benefit the Friends of Homeless Animals rescue in Virginia, and other shelters/rescues may use it for fundraising as well. By buying this book, you will help a lonely animal find his forever home, a sick animal get well, or a scared animal sleep in a safe place while she learns to trust. Thank you!
You can buy it here.
A long time coming, but here it is.
Screen Guild Theater
, starring the film's original leads. Tonight it's 1950's
Champagne for Caesar
with Ronald Colman as unemployed genius Beauregard Bottomley who appears on television quiz show hosted by Art Linkletter. As the amount of money Bottomley wins increases, it threatens the very business of the show's sponsor, played with sneering relish by Vincent Price. A must-hear episode for fans of game shows as well as Old Time Radio. Check it
out here
.
Presenting another radio adaptation of a Hollywood classic from the
The Jack Benny Program
. Those who have been listening closely for the past few weeks will have their attention rewarded as several old themes and topics are referenced. Then Academy Award-winning actor Ronald Colman and his wife Benita Hume star in their comedy-drama series set at a small Midwestern college,
The Halls of Ivy
. Colman plays the college's president, sagely dispensing advice to the undergraduates. Lessons will be learned and heartstrings will be tugged.
Check it out here.
This week we present the final step in the saga of "The Walking Man" contest when winner Florence Hubbard appears on
Truth or Consequences
. For eight weeks, along with the usual game show shenanigans, listeners were invited to guess the identity of a prominent figure based solely on a rhymed clue and the sound of his walking. Spoilers: It was Jack Benny. Here is the episode of TOC where a listener correctly guesses Benny. Check out the haul of prizes that had accumulated over the preceding weeks. Next listen to the episode of
The Jack Benny Program
which was broadcast less than 24 hours later. It had had to be almost entirely rewritten overnight because not even Jack's wife, let alone his writers, knew in advance that he was The Walking Man. Check it
out here
.
This week we present two episodes centering on possibly the most popular radio contest of the 1940s, "The Walking Man." TWM was a contest to benefit The American Heart Association and took place on the radio show
The Jack Benny Program
sets the stage for items that will referenced over the next few podcasts. So pay attention as Jack quizzes bandleader Phil Harris about the dubious lyrics of the latter's theme song, "That's What I Like About the South." Then we take up crime solving with one of the few solo female private eyes of radio's Golden Age,
Candy Matson
. Based in San Francisco, she may look like a pinup and have the most sultry voice in radio, but she's smart, tough, and fast-talking. You can download
the podcast here
.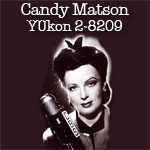 This episode of
The Batcave Podcast
. This time, we're talking about the two eps where The Joker dabbles in Pop Art: "Pop Goes the Joker/Flop Goes the Joker." There's lots of Warhol, and I sing a number from the musical
Damn Yankees
in Japanese. Check it
out here
.
I make another appearance on
My Favorite Husband
. Though her radio husband Richard Denning works in a bank, not as band leader, you can't help but see the roots of Lucy in Ball's character Liz and all the zany situations she stumbles into. But Ball was more than just a comic actress. Like so many performers during the Golden Age of radio, she worked in drama as well. This week she and real-life husband Desi Arnaz appear in
Suspense
, "radio's outstanding theater of thrills," which ran for twenty years. Here they play strangers engaged in a potentially deadly game of cat-and-mouse. But who is the criminal and who is the victim? Check it
out here
.
This August 6th marks the 104th birthday of actress, comedian, and entertainment mogul Lucille Ball. Before there was the television classic I Love Lucy, there was its radio incarnation,